There's a reason Bertram Construction has high staff retention.
Our Local Approach to building has gained us great Respect in our Community as well as with our Staff. We SUPPORT our staff & community, we are a TRUSTED name in the industry, our team is ADEPT, we are known to be the RELIABLE option, we understand that TRAINING is investing, and we continually invest in making our team the best it can be. (S.T.A.R.T with us) Looking for a change? Apply below and let's see where you fit in.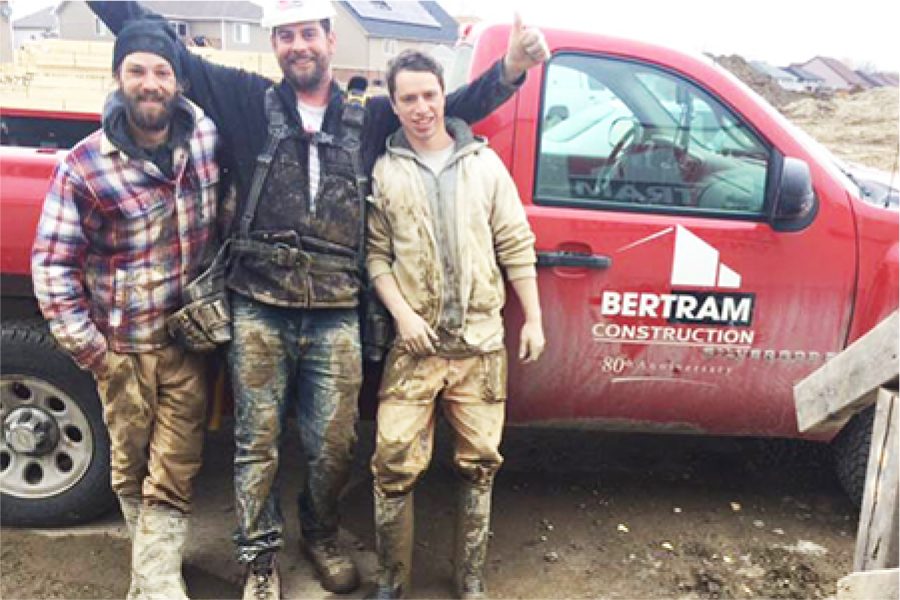 Our Local Approach to building has gained us great
Respect in our Community as well as with our Staff.
Bertram continually seeks out the industry's top talent and proudly maintains a very high retention rate. We accomplish this by investing in our team, understanding their aspirations, and working with them to create achievable goals. Bertram implements employee engagement practices like; Mentoring & Feedback, Co-op Student Placements, Promotions from within, yearly Social Events, Safety & Skill Training Retreats, Tuition Reimbursement Programs, Profit Sharing, and regular Merit Increases. When you're surrounded by the industry's best, you find success.  With each successfully completed project our employees feel empowered and gain a sense of achievement that builds momentum with future projects.

Most Reputable Company in Simcoe County

We keep it Local, keeping you close to home

Opportunity to Learn & Space to Grow


Extensive Health Care Plan

Company Wide Profit Sharing
XcelerateHER Story - Lisa Bertram - Bertram Construction - Made in Simcoe, County of Simcoe
Introducing Lisa Bertram, Owner, Director and President. Lisa is currently President and Owner of Bertram Construction. Lisa's responsibilities include overseeing the financial and bonding areas of the business. She oversees the firms operation including project management, estimation and field operations.
"Don't take our word for it, just listen to what
our employees have to say:"
When I first came to Bertram, I was used to working for large government union entities.  Bertram quickly made me realize that here you are treated like family.  Lisa, the owner is one of the most fair and compassionate leaders I have worked with.  I am proud to be a part of the Bertram team.  My day-to-day work task varies daily and there is never a dull moment. I feel at home at Bertram and my co-workers are the best.  I couldn't imagine working anywhere else. – Rosalind
Requirements:
A well-rounded Project Coordinator with experience working with a General Contractor.
Experienced with software programs such as Office, Bluebeam and Project.
Well organized and able to assist Project Managers and Site Superintendents.
Experienced in Purchase Orders, Change Orders, purchasing and issuing Contracts and Letters of Intent.
Ability to work on multiple projects and remain focused.
Requirements:
A well-rounded Project Manager with at least 5 years experience working under a General Contractor.
Experienced with software programs such as MS Project, Office, Bluebeam
Well organized with exceptional communication skills and the ability to manage multiple projects.
A thorough understanding of Construction Processes & Practices, and able to review and understand Building Plans in Ontario.
Requirements:
Skilled Carpenter with a minimum of 5 years experience in all areas of ICI construction.
Able to read Construction drawings and work in both metric and imperial.
Experience with hollow metal frames, doors and hardware installation, wood door and window installation, steel beam and lentil installation, framing, formwork, finish carpentry, washroom partitions, etc.
Skilled Construction Labourer
Requirements:
3 years ICI experience as a Skilled Labourer.
Hardworking, able to follow directions, and has a good work ethic.
Ability to handle the physical demands of the job.
Ability to work outdoors in adverse/ varying weather conditions.
Good communication skills.
Building long-term relationships based on respect and trust.